:: Welcome ::
Hello and welcome to the Garden Card Catalogue, the Sensus Fanfiction Archive's Final Fantasy VIII fanfiction archive. We specialise here in the yaoi/slash, yuri/femme slash, and general fics that appear in the fandom, but do have a few het fics here and there. To return to the Garden, as always, hit the SeeD logo at the top. Or, if you get lost, check out the Site Map.
If you don't know who the characters are or want a visual to refresh your memory, why not head on over to the Dormitory for the character profiles or the Cafeteria for the Image Archives. You never know, they could be helpful :)
This update page doubles as the general announcement page for the Library, so if we have anything important to let you know directly concerning this archive, here's the place we'll tell you.
:: Announcements ::
You might have noticed something a little different about the site? Well, that's because I rebuilt it from scratch, working from the Main Archive up and I've incorporated the 'By Series' feature into the Main Archive and various indexes themselves. The idea was to get rid of some inconsistencies I noticed popping up. It also allowed us to fix the navigation for the GCC since it has in fact changed over the years. With the new 'do', hopefully it'll be easier to tweak. Also, it's now text based >< Been trying to do that for ages now...
Sorry there's no new layout - still stuck with the same old for now. I figured you'd prefer an update quicker, and with the amount of time it took just to rebuild the archive, a new layout would have delayed things even longer.
If you would like to be notified when the Garden Card Catalogue is updated, please join the Update Mailing List. You will recieve notifications of all updates to the Garden Card Catalogue and Noire Sensus.
Updated: 9 December 2005 | 8 new authors and 42 new fics
- New Fics -
Storm Front [Seifer/Squall]
by Aphelion Orion
Hide and Seek [Laguna/Squall]
by BlackRose
Hallway Hookup [Seifer/Irvine]
by CalliopePurple
It felt like the end, Once a Knight, Always a Knight, Hurt, , Timing, What They Say About the Quiet Ones, Sunrise, I Never Said I Loved You, and The Birthday Arc [all Seifer/Squall]. Also, Foolish Games [Laguna/Squall], Midlife Crisis [Ward/Squall], Wanted and The Word [both Seifer/Squall/Irvine], and 'Twas the Night Before Christmas [Irvine/Squall]
by darksquall
Fragile Circle [Selphie/Quistis], Guardian [Squall/Rinoa], and Eyes [None]
by fyre byrd
An Understanding [Laguna/Squall], Dancing Chicken [Seifer/Zell], Hard and Fast and Magic 8 Ball [both Seifer/Squall], Zell's End [Seifer/Zell, Squall/Seifer], Edea Drabble, Undisputed, and Ultimate Magic [all None]
by Hecate's Brat
Push The Limits, I Love You... I'll Kill You, and Head Like A Hole [all Seifer/Squall], Idol Worship Arc [Sephiroth/Irvine], and The Games We Play [Seifer/Squall/Irvine/Zell]
by Iron Dog
Tears of an Angel [Squall/Nida]
by Lady of the Phoenix
Knowing You [Kiros/Squall]
by Purple Penguin
Wordless [Cloud/Squall, Cloud/Seife/Irvine/Zell/Squall]
by Resonae Eoir
Snow [Irvine/Squall]
by Sodoshiin
The High Price of Love [Seifer/Squall]
by Sukunami
Squall Almasy [Seifer/Squall]
by Takira
Office Blunder [Seifer/Squall]
by VampireSyra
Eventually [Seifer/Squall, Irvine/Selphie]
by The Wandering Englishman
Eroticism [Seifer/Squall]
by xxperfectxdrugxx
A World Apart [Seifer/Squall]
by Zen

- Updated Fics -
Chapters 2 to 28 of One Moment, And A Year [Seifer/Zell] [COMPLETE]
by Akare
Part 13 of Whispered Screams [Seifer/Squall]
by Angry Angel
Part 2 of The Redcrosse Knight: Interlude [Seifer/Squall]
by fyre byrd
Parts 7 and 8 of The Push It Arc [Seifer/Squall]
by Iron Dog
Chapter 3 of Desperately Seeking Squall [Irvine/Squall, Zell/Selphie]
by Kris
Chapter 3 of Shelter [Seifer/Squall]
by Mikata
Parts 9 to the Epilogue of Deep End [Seifer/Squall, Irvine/Zell] [COMPLETE]
Part 4 of Want Me, Have Me, Crave Me [Seifer/Zell, Squall/OC]
by Purple Penguin
Parts 15 and 16 of Blind Sight [Seifer/Squall] [COMPLETE]
Parts 3 to 7 of For Nothing, For Everything [Seifer/Squall]
by Sukunami

- Last Update -
Help support Noire Sensus - click one of the links below and vote for us :)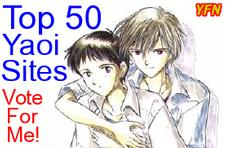 This is just out of sheer curiosity ... so that's how many, huh?
[ top ]
If you encounter problems, please contact a member of the staff or consult the FAQ.
Report a broken link.